In a parliamentary democracy, a government can be in power only if it commands a majority in the directly elected House. Article 75(3) of our Constitution embodies this rule by specifying that the Council of Ministers are collectively responsible to Lok Sabha. The rules of Lok Sabha provide a mechanism for testing this collective responsibility. They allow any Lok Sabha MP who can garner the support of 50 colleagues, to introduce a motion of no-confidence against the Council of Ministers. Thereafter, a discussion on the motion takes place. MPs who support the motion highlight the government's shortcomings, and the Treasury Benches respond to the issues they raise.
In the Nehru decades
In 1952, the Rules of Lok Sabha provided that a no-confidence motion could be moved with the support of 30 MPs. Even then, not a single no-confidence motion was moved during the term of the first two Lok Sabhas. It was during the third Lok Sabha in 1963 that the first one was moved by Acharya J B Kripalani against the government headed by Prime Minister Jawaharlal Nehru. The debate on the motion lasted for 21 hours over four days, with 40 MPs participating. In his reply, Nehru remarked, "A no-confidence motion aims at or should aim at removing the party in government and taking its place. It is clear in the present instance that there was no such expectation or hope. And so the debate, although it was interesting in many ways and, I think profitable too, was a little unreal. Personally, I have welcomed this motion and this debate. I have felt that it would be a good thing if we were to have periodical tests of this kind."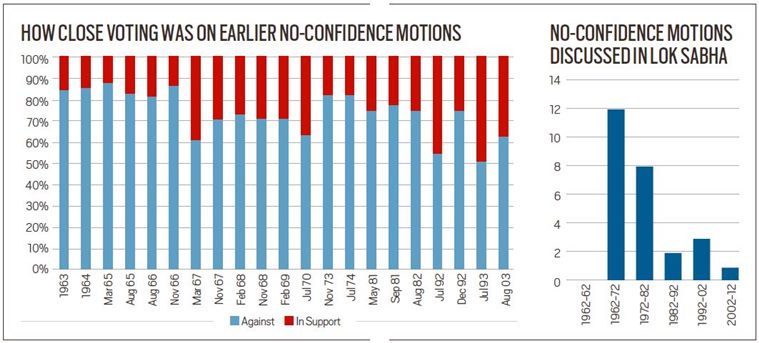 Shastri and Indira years
His words were prophetic. The next no-confidence motion was moved roughly a year later in 1964 by N C Chatterjee, an Independent MP, against Prime Minister Lal Bahadur Shastri. While moving his motion he said, "There is a crisis in every sphere. Honestly, there is a crisis in social, political, economic and other spheres and for all this I hold this government mainly responsible." From 1964-75, Lok Sabha debated 15 no-confidence motions. Three were against Shastri and 12 against Indira Gandhi. Indira went on to face three more no-confidence motions between 1981 and 1982. However, none of these was successful in dislodging a government.
Defeated motions
The first no-confidence motion that led to the falling of a government was moved by Y B Chavan in 1979 against the government of Prime Minister Morarji Desai. After a nine-hour debate spread over two days, Desai resigned before the motion could be put to vote.
Since then, every Prime Minister has been able to defeat a no-confidence motion. Rajiv Gandhi faced one in 1987 which he defeated by a simple voice vote because of his overwhelming majority in Lok Sabha. However, P V Narasimha Rao had two close calls during his term in the 10th Lok Sabha. The first motion against him was moved by Jaswant Singh, which he defeated with a margin of 46 votes. Rao did not face any trouble in defeating the second one, moved by Atal Bihari Vajpayee. The third no-confidence motion that Rao defeated with a margin of 14 votes was marred by controversy. Jharkhand Mukti Morcha MPs were taken to court for having accepted bribes to cast their vote to defeat the motion.
Today, after 15 years
It is now 15 years since a discussion on a motion of no-confidence took place in the Lok Sabha. The last one was in 2003 when Prime Minister Vajpayee defeated a no-confidence motion moved by Sonia Gandhi. The no-confidence motion to be discussed on Friday will be the 27th no-confidence motion in our Parliamentary history.
Here is how the no-confidence motion on July 20, 2018, unfolded.
Chakshu Roy is Head of Outreach at PRS Legislative Research.